With the coming of warm weather, excitable couples may be looking to tie the knot anywhere other than indoors.  Finding the perfect outdoor wedding venue may be a daunting task, but these six venues offer not only beautiful scenery, but also extraordinary attention to detail, making for memorable events.
Birchwood Manor
Park Château
Maritime Parc
Crystal Plaza Group
The Manor
Pleasantdale Château
Birchwood Manor – Less Than an Hour from NYC
Birchwood Manor of Whippany is a stunning venue less than an hour away from New York City. With over twenty acres of manicured grounds, the Birchwood Manor has a number of different sites that couples can choose to give their vows and all of which make for a one-of-a-kind experience. From fountains to patio terraces, gardens, and other features like a pergola, or a gazebo, there are plenty of places for couples to strike a pose.  This venue also has valet parking and is completely handicap accessible to ensure that everyone is included and taken care of.
Park Château – Conveniently Located Between NYC and Philly
Next on the list is the Park Château of East Brunswick, which is a convenient central point between New York City and Philadelphia for family and friends of all locations to meet for the special day. This venue prides itself on its classic French style of architecture that transports guests to another world across the Atlantic. While maintaining the Château's timeless splendor, the Park Château offers gorgeous fountains, gardens, and lots of outdoor scenery as a backdrop for the perfect photo.
Maritime Parc – A View of the Manhattan Skyline
Deviating from the list of storybook locales is Maritime Parc of Jersey City, a luxurious venue with a view of the New York City skyline. Maritime Parc ensures that every ceremony is equally important, whether it is a small and intimate group or a grandiose gathering, all set against the water of the Hudson River. Looking onto the lower Manhattan skyline inspires a prosperous and long-lasting marriage, and makes for a beautiful backdrop to immortalize such a momentous occasion.
Crystal Plaza Group – Multiple Outdoor Locations
Located in Livingston, the Crystal Plaza offers a variety of outdoor accommodations for any wedding day. Their exquisitely groomed gardens and five acres of land make for a variety of lovely photo shoots. In order to ensure that each wedding is customized to that couple, the Crystal Plaza Group doesn't limit their options to specific package deals.  With outdoor life blooming now more than ever, their outdoor venue makes for an enchanting day for all attending to enjoy.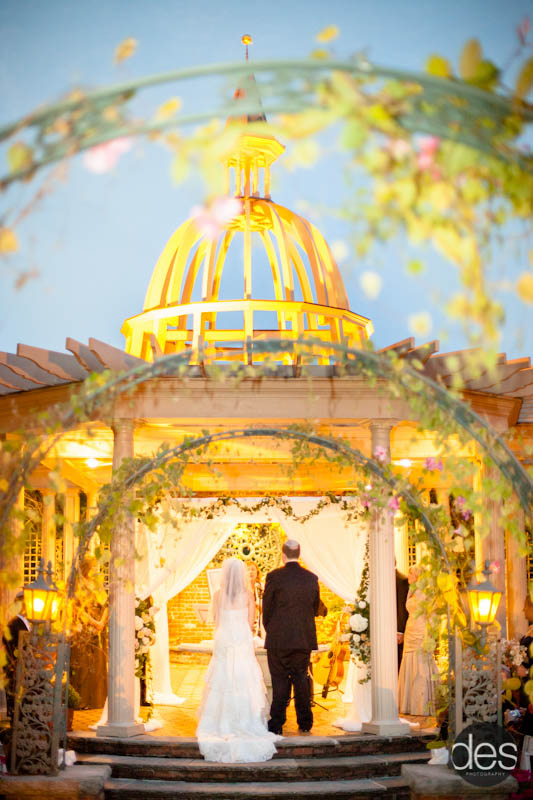 The Manor – Top Venue and Restaurant in Northern NJ
The Manor, located in West Orange, takes pride in making each ceremony unique and tailored to each couple. Whether it's style or budget, their staff is dedicated to making each event perfect for large and small ceremonies alike.
Brides-to-be can opt to work with their wedding specialists to arrange every last detail, or the planning process can be left to the specialists entirely.  While they offer both indoor and outdoor locations for ceremonies and receptions, their enchanting garden is an ideal setting to start your happily ever after.
#1 Outdoor Wedding Venue in NJ – Pleasantdale Château
At the top of the list lies Pleasantdale Château, a luxury location for you and your significant other to start the rest of your lives together. The rustic, yet elegant grounds of the estate serve as a fairy tale venue unlike any other.  Pleasantdale Château also offers many picturesque locations for a wedding photographer to capture that one-of-a-kind photos that capture the beauty of your special day.  Portions of the historic Château date back to 1835 and remain timeless in their splendor.  The receptions held there are equally as lavish as the food is freshly grown in their gardens and expertly prepared by their renowned kitchen.  They view each celebration of love as magical and will not book other events during your ceremony in order to provide an unforgettable experience to all who attend.
Now is the perfect time for couples to start planning the ultimate outdoor wedding and choosing the guests and the venue is a great way to start.  Embracing the fresh air and the warmth of the season while starting the rest of your life with your significant other is an experience like no other, and picking the best location for your event is a one-of-a-kind experience in itself.