As anyone with even a cursory interest in Donald Trump's picks for cabinet positions is fully aware, where they go, controversy usually follows. And maybe no pick has been more controversial than his choice for Secretary of Education, Besty DeVos. From the historic tie-breaking vote from Vice President Mike Pence for her confirmation to facing protests on school campuses from teachers and parents alike, Ms. DeVos' tenure at the Department of Education has been anything but quiet.
With the recent showdown in congress over her attempts to roll back Obama-era regulations on for-profit colleges, there seems to be no end in sight for Ms. DeVos' time in the spotlight. Indeed, her proposed changes to the for-profit debt forgiveness package instituted by President Obama recently promptly congresswoman Rep. Fredrica Wilson (D-Fla.) to declare that Betsy DeVos is "out to destroy public education."
How Did We Get Here?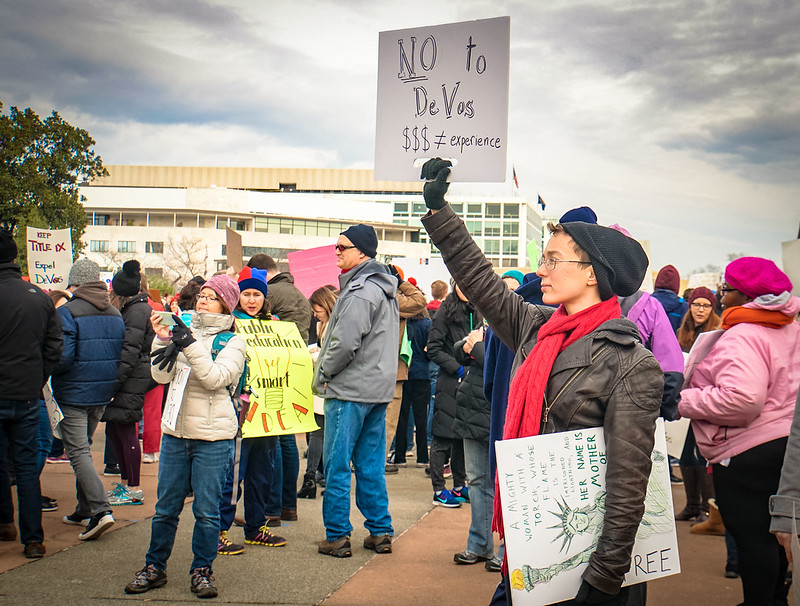 To understand how we got here, it helps to look at the steps the previous administration took to help out the legions of student across the country who took out hefty loans to pay for courses at for-profit colleges. Unfortunately, these students later learned that all they really got for their efforts were empty promises and degrees that weren't worth the paper on which they were printed. For this reason, during the home stretch of the Obama administration, the Department of Education resolved to grant full loan relief to these defrauded students under a rarely-used rule known as the "borrower defense." This provision of the Higher Education Act enables borrowers to obtain loan forgiveness if a college or university misled them.
A New Administration and New Rules
Nevertheless, when Betsy DeVos took the helm as Secretary of Education she wasted no time in signaling that the department would no longer offer borrowers full relief. Instead, she quickly instituted a new formula based on their present-day income that would offer only partial relief. Shortly thereafter, her proposal was blocked by the courts on the grounds that using social security earnings data to calculate relief violates borrowers' privacy.
This past week, however, Ms. DeVos returned with a new approach for partial relief that would use publicly available income data in their calculations. She defended the policy by maintaining that borrowers shouldn't be entitled to relief if they can't show that they've been financially harmed. She reasoned that a defrauded student is only entitled to student loan relief if his or her earnings are lower than the median for that program at all comparable schools.
Under this new plan, however, most borrowers will no longer qualify for full debt relief. In response, Rep. Suzanne Bonamici of Orgeon pointed out that "just because someone is making money doesn't mean they weren't defrauded."
DeVos counters that she is also acting on behalf of taxpayers. She believes that it's not fair that hardworking taxpayers should pay for student loans if the claimants did not suffer demonstrable financial harm. Critics charge that the Trump administration seeks to limit relief to those who suffered the most damage.
Internal Memos Show Staff at Odds with Secretary
It didn't take much time for anyone whose claim wasn't approved by the Obama administration to realize they had plenty to worry about when DeVos was confirmed. She has argued for years that Obama's total relief approach to the borrower defense rule was too lenient. Furthermore, when forced to sign off on thousands of borrower defense claims that were already approved by the Obama administration, she added the words: "with extreme displeasure" below her signature.
What's especially jarring about DeVos' position is that recently published internal Education Department memos reveal how staff within the Borrower Defense Unit supported the defrauded borrowers. According to these memos, the unit examined thousands of borrower complaints registered against prime offenders ITT Tech and Corinthian Colleges. Only a few weeks prior to DeVos taking over, the unit recommended that the student borrowers were entitled to full relief from their debts.
Students Left in Limbo
As you can imagine, Betsy DeVos was in no rush to process claims that weren't approved by the previous administration. Immediately after assuming control of the department, DeVos slow-walked implementation of the borrower defense rule. According to records, it didn't approve a single new claim between June 2018 and June 2019. As a result, there are now over 200,000 borrowers waiting for their claims to be resolved.
Unfortunately, with the latest skirmish over borrower defense stalled in our courts, borrowers have no idea when the department will begin to process the more than 200,000 outstanding claims and how it will determine the amount of debt relief. Consequently, one congresswoman threatened to subpoena department documents and even testimony from Ms. DeVos herself to get some insight into the department's thought process.
Indeed, democratic attorneys general in 17 states and the District of Columbia have already taken action by suing DeVos to get her to enforce the regulations regarding debt relief and restricting funding to for-profit colleges that saddle students with heavy loans without preparing them for gainful employment.
Rep. Bobby Scott, D-Va., the Democratic chairman of the U.S. House education committee, made clear the plight of borrowers who experience major delays in processing their claims by pointing out how a debt load of $20,000 or more can make major financial moves like buying a house or a new car a near impossibility.
The Message for Prospective Students
One of the major ramifications of DeVos' policy changes is how they will affect students preparing to attend college in the near future. For example, her intent to abandon accountability for the worst-performing career preparation programs (the gainful employment rule) means that many more students will fall prey to these predatory institutions. As a result, other students could be dissuaded from even attending college for fear of becoming ensnared by these worthless for-profit programs that waste their time and leave them with crippling debt.
While Ms. DeVos claims that students are her number one priority and the reason that she comes to work every day, the moves she's made since becoming the secretary of education don't seem to support that notion. Although she agrees that students should have safeguards from predatory practices, she also maintains that schools and taxpayers should be treated fairly too. Consequently, Ms. DeVos has laid herself open to charges of protecting taxpayers at the expense of students. Apparently, she doesn't believe that these two groups can be one and the same.