If you were meticulously planning a spring or summer wedding this year but are now scrambling to change or postpone things because of recent coronavirus restrictions, you are definitely not alone. After President Trump issued guidelines in March limiting social gatherings to groups of 10 people, the collective sigh of disappointed engaged couples could be heard around the country.
According to the Wedding Report, a research firm that tracks wedding market data, approximately 27% of couples who had planned to wed between March and December of 2020 said they had already rescheduled their wedding for 2021. Nearly 26% decided to push things back to later this year, and 42% were sticking to their original date.
Since the wedding industry is estimated to be worth nearly $74 billion annually, an industry-wide hiatus will have serious ramifications for the businesses that depend on these events. Moreover, since the CDC has gone a step further than the president by recommending the cancellation of weddings in the U.S. until mid-May, it may be time to put together a back-up plan.
Postponing Your Wedding
While many people are dealing with more serious life and death issues right now, postponing or even cancelling a wedding will strongly impact the lives of both the bride and groom and their families. The good news is that all is not lost. With a little more planning and maybe a bit more reliance on modern technology, there are some workable solutions whether you want to forge ahead or push back your nuptials to a later date.
Talk to Your Venue
Getting your wedding venue on the phone should be your first stop because their schedule will impact all of your other vendors. If you've booked a popular wedding destination, you might have to wait a year for another date. You also need to keep in mind that some states such as Virginia have shelter-in-place orders in effect until mid-June. For this reason, it's important to check the latest guidelines at your wedding location if it's in a state other than where you live. The main thing is to be open about your concerns when talking to your contact at the venue. If you know your options, it will easier to make the right decision. The bottom line is to take action as soon as possible in order to notify both your vendors and your guests of the change.
Contact Your Vendors
After talking to your venue, it's time to contact other vendors such as the wedding photographer, the caterer, and your DJ or band to see what their contingency plans are. As small business owners, many of them will be taking advantage of recent government assistance programs to get through this period. However, they will still need advance notice to rearrange their schedules for later this year or for 2021. Unfortunately, you may not get all of your deposits back if you change your venue. It usually depends on how much work your vendors have already done in preparation for your event. This is another reason to act as soon as possible with the utmost transparency.
Keep Family and Guests Up-to-date
Since invited guests will have questions as they try to figure out their schedules, make sure you have a foolproof way of keeping them informed. A great way to do this is by updating your wedding website to acknowledge the upheaval from the coronavirus and letting them know that any changes will be reflected on the site. Giving everyone as much time as possible to alter or cancel their plans will go a long way towards allaying questions and concerns.
What If You Want to Stick with the Date?
You may want to stick with your original wedding date regardless of the pandemic. In this case, there are some creative options that can you can try if you just can't or don't want to put off your marriage any longer.
Have the Reception Later
If you intend to hold fast to your special date, you can always exchange your vows and your rings as planned in a small, intimate ceremony. You can still have the reception of your dreams at a scenic venue with family and friends after social gathering restrictions have ended.
Live Stream Your Wedding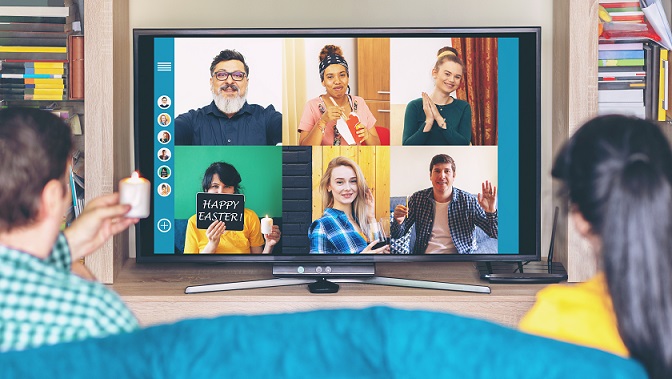 This is one of the ways that technology brings us closer together. Using one of the many popular streaming platforms such as Facebook Live, Instagram TV, or the favorite of the moment, Zoom, all of your favorite people can still participate in your big day.  Naturally, you'll have to work through some logistics like having a good signal at your venue and making sure everyone knows how a live stream works. If you prefer professionals to handle the details, some wedding companies have gone the extra mile by adding dedicated streaming services. To make things as realistic as possible, you might even ask your guests to dress up as if they were attending in person. You never know, people may really enjoy getting dressed up, even if it's only to show off on a live stream from the comfort of their home.
Make the Most of It
There's no doubt that downsizing a wedding will take its toll on any engaged couple. Nevertheless, the coronavirus pandemic has forced everyone to put things in perspective. Concerns regarding people's health must override lavish plans and large gatherings for the time being. But a little extra planning and creativity could help you pull off the big day in a memorable way. In the grander scheme, you will also be able to look back on it and say that your wedding occurred at a moment in history that will never be forgotten.